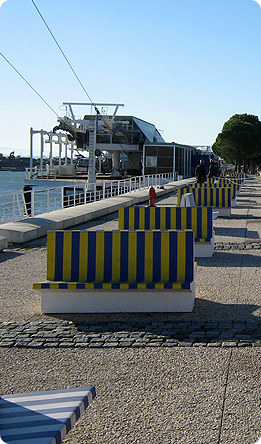 The Nations Park Gondola Lift was inaugurated on March of 1998 for the International Exposition of Lisbon (EXPO'98), nowadays, it is one of the mandatory touristic attractions of this leisure area in Lisbon. This aerial lift is owned by the company Telecabine Lisboa, which is responsible for the exploitation and maintenance of the installation. The Gondola Lift was one of the biggest attractions of the EXPO'98, having recorded a huge affluence of passengers.

This installation is endowed with 40 closed cabins with automatic doors and capacity for 8 passengers spread over two seats. The course develops on the estuary of the Tagus River, a few meters from the riverfront, with the towers massifs seated on the riverbed. The towers have a reduced visual impact. The South terminal (where the drive is) is located on Passeio de Neptuno, next to the Oceanarium and the North terminal (where the cable tensioning system is housed and also where the offices are) is located on Passeio das Tágides, next to the old Vasco da Gama Tower, now the My Riad hotel. The access and exit areas and the ticket offices are at ground level and the equipments are in the upper floors of the terminals, in other words, the stations. The buildings and all the equipments including stations, towers and cabins are white and/or blue in color in a beautiful contrast between the blue sky and the river.

The trip lasts 8 to 12 minutes on a course of 1230 meters, hovering over the Tagus River at 30 meters high, where we see a breathtaking panorama of the Nations Park including the Oceanarium, the Portugal Pavilion, the towers of St. Gabriel and St. Raphael, the Atlantic Pavilion (Meo Arena), the Vasco da Gama Tower (My Riad hotel) and the Vasco da Gama Bridge. A magnificent and unique experience...